Yaletown Dental Health
Oral Hygiene, Brushing, Flossing, & Nutrition






Oral Hygiene
Oral hygiene is important if you are trying to prevent gum disease, bad breath, plaque build up, and other unhealthy aspects of oral health.

Teeth Cleaning
At Atlantis Dental Roundhouse, we offer a wide variety of teeth cleaning services to improve oral health by offering removal of dental plaque from teeth and preventing cavities.

Scaling & Root Planing
Scaling and root planing is when dentists remove the plaque and tartar from the gumline. This deep-cleaning procedure can be uncomfortable if you have sensitive gums, but our professional dentists will make sure any discomfort will be minimized.

Teeth Whitening
Teeth whitening is a standard dental health procedure that can prevent gum disease and improve your overall oral health. Our dentists at Atlantis Dental Roundhouse can remove stains and discoloration to help your smile appear naturally whiter and brighter.

Periodontal Maintenance
Our periodontal dentistry services are focused on the maintenance and diagnosis of gum disease and supporting structures around the teeth.

Oral Pathology
As a Yaletown dental clinic, we provide oral pathology services, which involves the identification of a variety of oral diseases, including oral cancer.
Dental Care for The Whole Family
We offer Yaletown dental health services for people of all ages, including adults, seniors, and children. As a general dentistry in Yaletown, we offer a wide range of dental care procedures such as braces, dentures, fillings, gum surgery, dental implants, and more.
General Dentistry in Yaletown
Atlantis Dental Roundhouse is a dentistry located in Yaletown, Vancouver, providing dental health services in the area. We use technology and have optimized our dental procedures to ensure that you have a positive dental experience.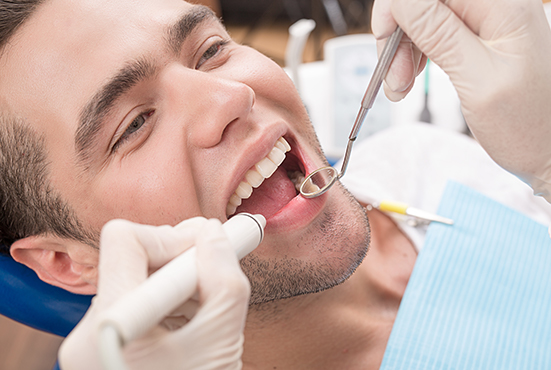 Professional Cleaning
Daily brushing and flossing will keep dental calculus (tartar) to a minimum, but a professional cleaning will remove calculus in places your toothbrush and floss have missed. Your visit to our office is an important part of your program to prevent gum disease. Keep your teeth for your lifetime.
Caring for sensitive teeth
Sometimes after dental treatment, teeth are sensitive to hot and cold. This should not last long, provided your mouth is kept clean. If your mouth is not kept clean, the sensitivity will remain and could become more severe. If your teeth are especially sensitive, consult with your doctor. They may recommend a medicated toothpaste or mouth rinse made especially for sensitive teeth.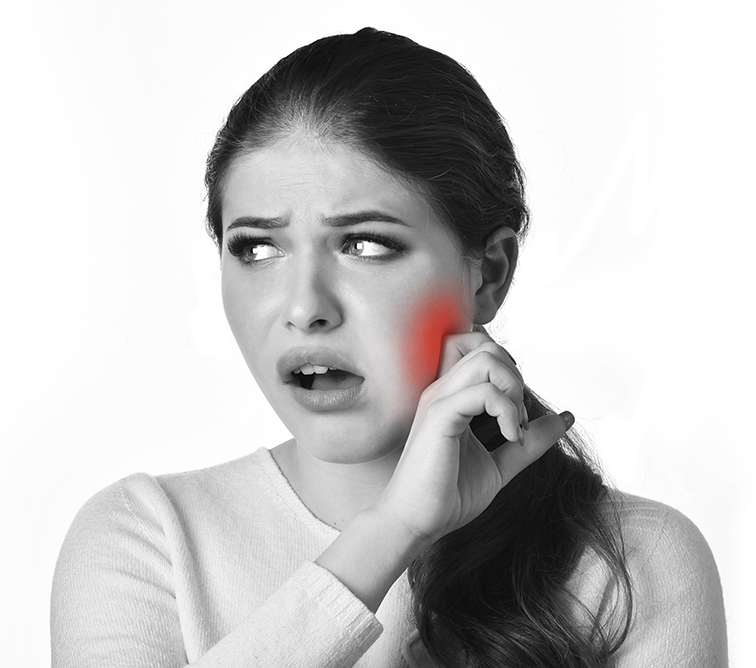 Eating Healthy For Your Teeth
Nutrition
Good nutrition plays a large role in your dental health. Brushing and flossing help keep your teeth and gums healthy and strong. However, a balanced diet will help to boost your body's immune system, leaving you less vulnerable to oral disease.
How often and what you eat have been found to affect your dental health. Eating starchy foods such as crackers, bread, cookies, and candy causes the bacteria in your mouth feed on it, they then produce acids, which attack your teeth for up to 20 minutes or more. Foods that stick to your teeth or are slow to dissolve give the acids more time to work on destroying tooth enamel.
Damaging food
Sticky and starchy foods create less acid when eaten as part of a meal. Saliva production increases at mealtime, rinsing away food particles, and neutralizing harmful acids.
Foods such as nuts, cheese, onions, and some teas have been shown to slow growth of decay causing bacteria in the mouth.
Starchy foods:
Crackers
Breads
Cookies
Candy
Sticky/slow to dissolve foods:
Granola bars
Chewy fruit snacks
Dried fruit
Hard candy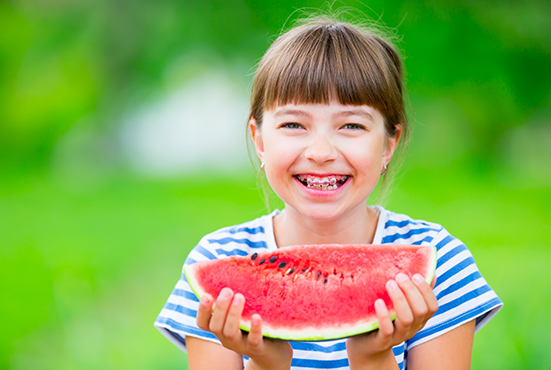 Here are some helpful videos provided by the Canadian Dental Association
Frequently Asked Questions
How often should I visit the dentist?
Visiting your dentist twice a year will help keep your smile looking good, feeling great, and problem free.  We'll have a good chance to catch a majority of dental issues while they are still small and easy to treat.
Will my dentist know if I'm lying about how much I brush or floss?
Yes, they will know if you are lying about how much you brush or floss. They are able to tell when they use their instruments to check for plaque around the gum line and in between the teeth. When they see how well or not so well you are doing with brushing or flossing, they will discuss why it's important and how to help keep your mouth happy and healthy.
How do I brush my teeth properly?
Here is a short 1-minute video provided by the American Dental Association demonstrating how to brush your teeth properly.
What kind of toothpaste should I use?
In general, it's best to choose a toothpaste with fluoride in it and that has been validated with the CDA seal of approval. The Canadian Dental Association CDA Seal provides assurance that the product can provide oral health benefits and improve their oral health in various ways that has been made by the manufacturer of that product. Additionally, it's best to check with a dentist if you have sensitive teeth or gum disease because that may require you to use a certain type of toothpaste.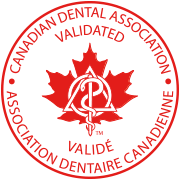 Do electric toothbrushes work better than regular toothbrushes?
Electric toothbrushes work just as well as a regular toothbrush. An electric toothbrush can be helpful if you have trouble holding a toothbrush or have arthritis in your fingers. Overall, it's not the brush that makes the difference, it's the brusher.
What's the right way to floss my teeth?
Here is a short 1-minute video provided by the American Dental Association demonstrating how to floss your teeth properly.